Events &

Entertainment
Bonuz is the ultimate event app allowing organizers to easily create and manage events in-app. With our unique token gating feature and barcode scanning capabilities, granting access to events has never been easier. Additionally, our gamification and challenge features help boost your event and business, while our rewards system incentivizes attendees to stay engaged and active. Overall, our app streamlines the event planning process, increases security, and enhances the overall attendee experience while giving your business more exposure & increasing customer retention.

Seamlessly create & manage events
Streamline your event planning and execution through our user-friendly interface.

Boost your business & engage participants
Enhance your events and maximize your exposure by activating engaging real-life challenges.

Build loyalty & improve retention
Incentivize attendees to foster a loyal customer base and encourage repeat business.
Create events in 3 simple steps
With its user-friendly interface and streamlined 3-step process, Bonuz makes event planning and management a breeze. Our token-gating feature & ticket scanning capabilities make checking-in attendees quick, reliable and secure. Having everything important in one place will give you the ultimate freedom to focus on your guests, while we tae care of the tech. Gamified quests which you can define during setup carry diverse benefits from ice-breakers, making socializing easier, to improving your overall sales & awareness.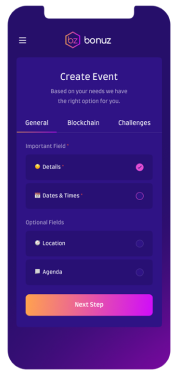 Simple & Intuitive Setup
Specify crucial event details such as the date, time, location, and agenda.

Authentication & Digital Assets
Select your preferred token gating option, as well as digital collectibles.

Interactive Challenges
Choose from a pool of real-life quests which your attendees can fulfill with the help of our app.
Boost your business in gamified ways
Our app offers fun event experiences for both business and attendees. By activating interactive challenges, we drive engagement and increase business exposure. Imagine a challenge where hundreds of participants are incentivized to take a selfie at your photo booth and share it on their Social Media channels drawing more attention towards your business. Through gamification, attendees will have a memorable experience and be encouraged to participate & socialize, which increases customer satisfaction, loyalty and retention. It's an absolute win-win situation for both parties.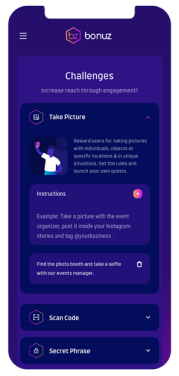 Take a picture
Let your attendees take pictures with individuals, objects, at specific locations & in unique situations.

Scan QR Code
Encourage participants to scan hidden QR codes to unlock extra benefits.

Secret Phrase
Animate your guests to discover secret passphrases & verify them inside the Bonuz App.
Increase retention & build loyalty
Our app allows organizers to issue incentives for the participation and engagement at events. These rewards can have the form of NFTs, tokens, or other digital assets that can be collected and retained by attendees. Besides establishing a recurring customer base, you'll also be able to define your most valuable participants who actively contribute to your business by fulfilling quests & as a result, boosting your business. This will allow a customer segmentation, classification and make it easier for you to build long-term business relationships with people who care about your business the most, allowing you to amplify every aspect of your business.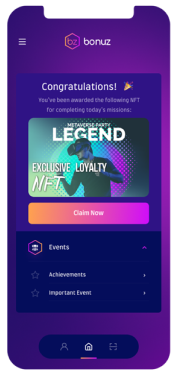 Issue Digital Rewards
Easily issue rewards to attendees for their participation and engagement.

Amplify Customer Retention
Distributing badges and similar digital incentives fosters a sense of loyalty and incentivizes regular attendance.

Launch Your Own Loyalty Program
Redeemable & stackable rewards foster long-term customer relationships and increase repeat business.